FEMALE DENSITY FOR THINNING HAIR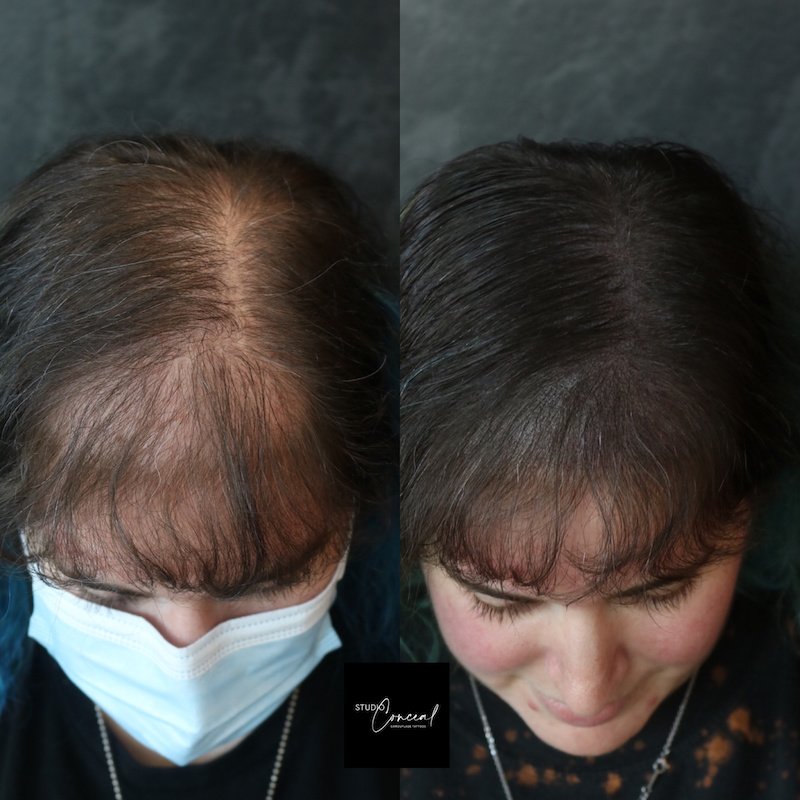 Scalp MicroPigmentation adds density to the scalp, this is a great way for women to create a thicker, fuller-looking hair.
It works by creating the illusion of hair follicles and darkening areas that hair loss is starting to show up.
What Does It Mean to Add Hair Density?
When we talk about adding hair density with SMP, we need to be clear—we're not adding actual hair to your head, we're adding the illusion of hair follicles with pointillism. Your hair itself won't be thicker or fuller, but it will appear more dense on the scalp because we blend your native follicles seamlessly with our work.
When you choose Steady Micro for Scalp Micropigmentation treatment, we provide hyper-realistic results that look completely natural.
Scalp micropigmentation (SMP) is for anyone that experiences any form of hair loss. It is a safe and effective treatment which is also known as a 'cosmetic tattoo', 'medical tattoo' or 'scalp tattoo'. Using a small needle, a technician places thousands of tiny dots into the scalp, each replicating a hair follicle which helps the hair look thicker whether it is shorter or longer hair.
This SMP treatment is primarily being used to camouflage thinning hair, alopecia, and female pattern baldness (including the hairline). 
Benefits of Scalp Micropigmentation
1. NATURAL LOOKING RESULTS.
SMP excels in creating a convincing appearance of natural hair growth. The process involves using tailor made pigments that match specific hair color and complexion. The application of these pigments using the SMP technique results in a subtle, stylish, blended hairline to complement your existing hair / hair loss.
If you are not a suitable candidate for other treatments such as hair transplants, SMP is an alternative option. SMP offers a solution for shorter and longer hair and even for those who have alopecia or severe pattern baldness.
2. LONG LASTING.
SMP provides a reliable, durable solution if you are challenged by hair loss. Some hair loss options require you to constantly budget for lotions, pills, touch ups and upkeep and SMP isn't one of those. Additionally, SMP offers the flexibility to adapt to evolving styles or even switch to an entirely new colour if that's your choice.
3. BRINGS BACK CONFIDENCE & SELF ESTEEM.
A key benefit of scalp micropigmentation lies in its ability to swiftly boost self confidence and enhance one's appearance. Through SMP, people struggling with hair loss can overcome a lot including psychological effects. SMP treatments can effectively rejuvenate both the hairline and a person's sense of self-worth. You can again, have a natural looking hairline that blends in harmoniously.
4. NON INVASIVE AND NON SURGICAL.
SMP offers a non invasive approach, eliminating the need for any kind of surgical cuts or stitches. The treatment employs specialised microneedles to introduce pigment into the scalp. There's next to no downtime or recuperation required following any of the sessions.
Free from pain or discomfort and with simple aftercare, results can be sustained. Completely bald scalps can be rejuvenated with a buzz cut style & appearance. SMP can effectively conceal scalp visibility and thinning areas to show a fuller, denser look for the hair.
5. SAFE AND EFFECTIVE.
SMP is a trusted and successful hair loss method, providing remarkable results for both men and women. Carried out by experienced technicians using sterile equipment and tools, the procedure endorses a high level of sterility, safety and hygiene.
SMP has not been associated with serious side effects. While some people may not be eligible for hair transplantation due to insufficient donor areas or other limitations, most can easily opt for fast SMP treatment. The treatment is free from any worrying chemicals or incisions.
6. AFFORDABLE AND COST EFFECTIVE.
SMP presents an affordable option for addressing hair loss. In contrast, hair transplant surgery is expensively priced and requires ongoing care. With SMP, one procedure provides long lasting results at far less cost.
Since scalp micropigmentation can be regarded as a permanent hair loss solution (rare touch ups will retain the results over a long period of time), there's no need to budget for pills, shampoos, lotions or false miracle cures every week.
The cost of SMP procedures varies based on the size of the treatment area and other factors.
7. LOW MAINTENANCE.
SMP is a low maintenance solution, just perfect for people with busy schedules or not. Unlike other hair restoration techniques that require constant upkeep and styling, SMP requires very infrequent touch ups (sometimes years apart) to preserve the desired appearance.
8. QUICK PROCEDURE WITH VISIBLE RESULTS.
Visible changes can be observed from the first session, and the first SMP procedure generally takes about three to four hours, depending on the treatment area. Small patches may only require an hour, while complete hairline reconstruction may take up to four to five hours. Treatment for all clients is unique and each patient will receive a personalised SMP treatment plan.
Experts recommend three to 4 treatment sessions spaced two to four weeks apart for optimal results
The density of hair will increase with each session
The SMP technician will distribute the pigment evenly across the scalp, to create a natural layered effect
Choose a SMP clinic that answers all your questions competently
Choose a clinic that offers a personalised SMP treatment plan
This SMP treatment is primarily being used to camouflage thinning hair, alopecia, and female pattern baldness (including the hairline). 
AVOID INVASIVE SURGICAL HAIR RESTORATION METHODS, IT ELIMINATES THE NEED FOR INCISIONS, STITCHES OR LENGTHY RECOVERY PERIODS.
I'M INTERESTED IN THIS SERVICE..